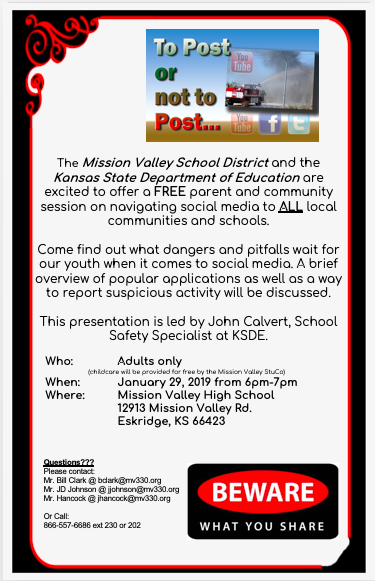 To Post or Not to Post
Amy Cassell
Sunday, December 15, 2019
To all,
Our school district would like to offer an opportunity for the parents, teachers, and staff from your community to come to Mission Valley High School to take part in a special, adult specific presentation by the Kansas State Department of Education Safety and Security Specialist, Mr. John Calvert.
Due to the recent events that have transpired here at Mission Valley, we felt it necessary to help with promoting education to our students and our community members regarding the impact of violence in schools and in general. Mr. John Calvert, a former school resource officer with Royal Valley and now with KSDE, has provided many presentations to schools across Kansas, as well as recently presenting at a national level event in Las Vegas, NV. Childcare will be provided by the Mission Valley Student Council and will be onsite.
We are extending a warm invitation to all parents, grandparents, aunts, uncles, guardians, teachers, community members, and staff that would be interested in learning more about how we can take steps towards curbing these violent tendencies within our communities and our schools.
Please see the attached flyer and contact myself, Mr. Bill Clark USD 330 Superintendent @ bclark@mv330.org, or Mr. JD Johnson (jjohnson@mv330.org) for more details. If it is possible, please print off the attached flyer and have it posted in your school and your community.
Thank you all so much for taking the time to read this email, and we hope that you would consider our offer and help make this event into a step increase the community network of help and support.
Jamey M. Hancock
School Counselor, Jr/Sr High Schools
District Mission Statement
"Mission Valley School District is dedicated to providing a safe, orderly learning environment in which to direct and assist students as they prepare for a fulfilling and productive life."
USD 330 Mission Valley
12913 Mission Valley Road
Eskridge, KS 66423
866.557.6686