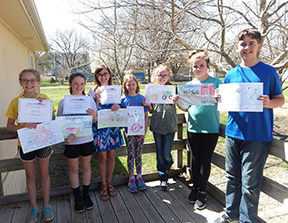 2019 Wabaunsee County Farm Bureau Safety Poster Contest Winners Announced
Amy Cassell
Tuesday, April 09, 2019
We really appreciate your effort to have so many students participate in the 2019 Wabaunsee County Farm Bureau Safely Poster Contest. The students had some very creative ideas and great art work! Even if a young person visits a farm once, safety is so important.
The Division III winners from Paxico Middle School are:
1st: Payton Wurtz
2nd: Reese Michaelis
3rd: Isabelle Guinn
Honorable mention (no award) but the judges were impressed with their messages and/or art work.
Macy Alderman, Isabelle Stuhlsatz, Aubrey Imthurn, and Conner Strait
Connie Miller
Wabaunsee Co. Farm Bureau Safety Chair