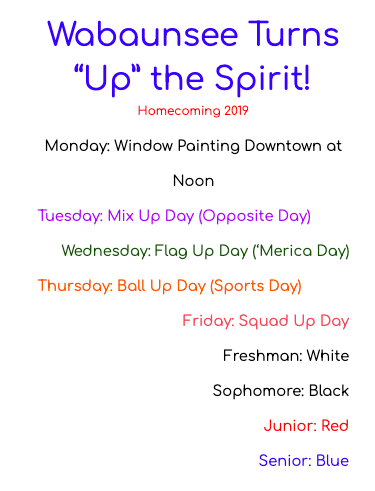 2019 Homecoming Info
Amy Cassell
Friday, September 13, 2019
Wabaunsee High School's Homecoming week will kick off Monday, September 16th. Window painting will be downtown on Monday at noon. The school week will start off with a spirit day each day with Chargers Turn "UP" the Spirit as the theme. The days are Tuesday - Mix UP (Opposite Day), Wednesday - Flag UP ('Merica Day), Thursday - Ball UP (Sports Day), and Friday - Squad UP (Freshmen: White, Sophomore: Black, Juniors: Red, Seniors: Blue). Volleyball includes Monday at St. Marys (C-Team) and Tuesday at St. Marys (V/JV). Tennis will compete at Chapman on Monday, Baldwin (JV) on Tuesday, and Wamego (JV) on Thursday and at Clay Center on Saturday. . On Monday, Football will host Mission Valley (JV). Varsity Football will be playing Central Heights on Friday.. Cross Country will run at Northern Heights on Thursday. A bonfire sponsored by the Pep Club will take place Thursday from 8:00 to 9:00 at the baseball field along with s'mores. Homecoming activities will take place Friday, September 20th. The evening will start with the crowning before the football game. A dance will follow.. The times are as follows:
8:45 am - 11:45 am/after lunch - Class meetings followed by High School float decorating
11:45-12:30 - Student council sponsored BBQ for students and staff.
12:45-1:15 pm - K-4 pep rally in the high school gym
1:15 pm - Parade line up at the corner of Missouri Avenue and 10th Street. The cheerleaders and band will line up first followed by candidates, high school class floats, other participants.
1:30 pm - The parade will go to the Alma Manor then back to Missouri Avenue and go south. All in the parade should turn right on 3rd Street then right onto Kansas Avenue.
Following parade - A pep rally at the corner of Missouri and 3rd Street.
***Note: K-4 students will NOT attend this pep rally. They will be in school.
3:30 pm - Normal after school bus routes.