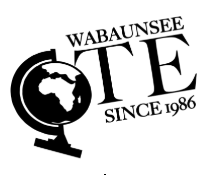 WHS Celebrates Career & Technical Education
Amy Cassell
Thursday, February 06, 2020
WHS Celebrates Career & Technical Education
During the month of February Career and Technical Education (CTE) programs are recognized throughout the state. At Wabaunsee High School students have a variety of opportunities to take courses within the established CTE pathways. These pathways include Visual Arts, Design & Construction, Business Education, Agriculture Science, Power & Energy, and Family & Consumer Sciences. Each pathway includes an introductory class followed by more advanced courses. Students at Wabaunsee are required to take at least four CTE classes throughout high school for graduation requirements. Currently, 93% of the student body is in at least one CTE course. Funding is provided by the state for the advanced CTE courses by the state. CTE introductory courses can also be offered to eighth-graders. Wabaunsee is unable to give this option due to the distance between the schools.
CTE has been at Wabaunsee since the 1986 school year. During that year KSDE CTE encouraged schools in Kansas with FCS, Agriculture, and Business departments to teach the same courses through all schools in the state. This is believed to be the start of organized CTE at Wabaunsee. Vocational Education was the original name given to CTE. In the spring of 2002 Mrs. Diane Breiner, former Wabaunsee FCS teacher, and Mrs. Susan Schrader, former Wabaunsee English teacher, wrote the first pathway applications for the 'vocational classes' for KSDE approval. In 2003 Mrs. Diane Breiner was named the Vocational Coordinator for USD 329. In 2005, Wabaunsee FCS was named the #1 FCS Program in Kansas based on their submitted pathway application. Since 2018 Mrs. Amy Cassell has been the district CTE coordinator.
Organizations at Wabaunsee are provided to take the skills learned in CTE courses to a higher and competitive level. These include FBLA, FFA, FCCLA, and SkillsUSA. Current CTE teachers include Keeley Reddick (FCS), Brendan Praeger (Newspaper), Danny Davis (Ag, Power & Energy), Jeron Weisshaar (Business), Caroline Smith (Art), Lyle Strait (Woodworking), and Amy Cassell (Visual Arts).
During February, the CTE programs at Wabaunsee are working to promote CTE and educate the public about the benefits of students taking CTE courses throughout high school. A focus of CTE is to make students college and career ready to prepare students for high-demand career fields. CTE courses give students a basis for interests in careers and hands-on resources to enter the workforce or attend a technical college or four-year university after high school. If a student takes certain CTE classes then college credit can be earned upon entering higher education.
To promote CTE for the month of February area businesses were asked to donate towards gift cards and t-shirt money for the Wabaunsee student body. We ended up with over 100 gift cards! The gift cards will be given to students who are in CTE classes through daily drawings in February. A big thank you is to be given to the following businesses for their support of CTE at Wabaunsee: Stop-2-Shop, Hafenstine Construction, Lou Allen, OFG Financial Services Inc, Alma Creamery, Alma Bakery & Sweet Shoppe, Pep Club Locker, Murray Auction and Realty, S&S Contracting, Mill Creek Mercantile, Antique Emporium, Stockgrowers State Bank, The Wabaunsee County Signal-Enterprise, West Ridge Animal Health Center, WHS Booster Club, Feyh Farm Feed Company, Alma Coop, Frank's Plumbing & Heating, Gambino's Pizza, WHS Screen Printing, WHS FCA, WHS FCCLA, WHS FBLA, WHS Journalism, Jock's Nitch Sporting Goods, Maple Hill Truck & Auto, Paxico Longbranch, Thowe Construction, and El Corral Mexican Restaurant.