Charger Virtual Spirit Days April 14th - 24th
Amy Cassell
Monday, April 06, 2020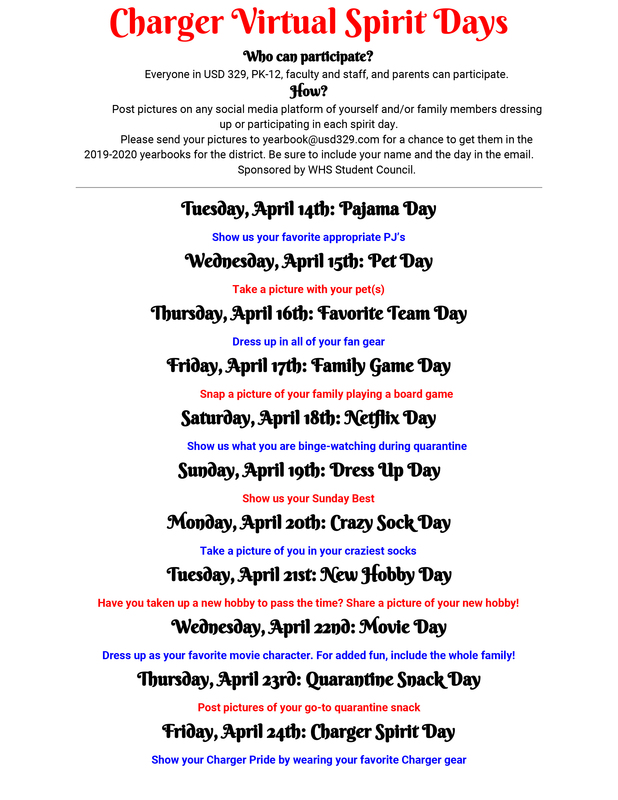 Charger Virtual Spirit Days
Who can participate?
Everyone in USD 329, PK-12, faculty and staff, and parents
can participate.
How?
Post pictures on any social media platform of yourself and/or family members dressing up or participating in each spirit day.
Please send your pictures to yearbook@usd329.com for a chance to get them in the 2019-2020 yearbooks for the district. Be sure to include your name and the day in the email.
Sponsored by WHS Student Council.
Tuesday, April 14th: Pajama Day
Show us your favorite appropriate PJ's
Wednesday, April 15th: Pet Day
Take a picture with your pet(s)
Thursday, April 16th: Favorite Team Day
Dress up in all of your fan gear
Friday, April 17th: Family Game Day
Snap a picture of your family playing a board game
Saturday, April 18th: Netflix Day
Show us what you are binge-watching during quarantine
Sunday, April 19th: Dress Up Day
Show us your Sunday Best
Monday, April 20th: Crazy Sock Day
Take a picture of you in your craziest socks
Tuesday, April 21st: New Hobby Day
Have you taken up a new hobby to pass the time? Share a picture of your new hobby!
Wednesday, April 22nd: Movie Day
Dress up as your favorite movie character. For added fun, include the whole family!
Thursday, April 23rd: Quarantine Snack Day
Post pictures of your go-to quarantine snack
Friday, April 24th: Charger Spirit Day
Show your Charger Pride by wearing your favorite Charger gear