​Alma Frisbee Golf Course Becomes Reality
Amy Cassell
Friday, July 24, 2020
Alma Frisbee Golf Course Becomes Reality
Over the last two years, three Wabaunsee High School students had the vision to create a nine-hole frisbee golf course in Alma and share their love for the sport with the community. With every idea, a plan is needed. Class of 2019 graduates, Sean Dugger and Dillon Spellman, as seniors worked on designing the nine-hole frisbee golf course to be located in the area of McKnight Field. The past school year, senior Luke Stuhlsatz, completed the planning by fundraising and discussing plans with the City of Alma.
Stuhlsatz worked throughout the year to communicate with the City of Alma to get approval for the course layout. He also applied for a grant and had a few community fundraisers to purchase official frisbee golf baskets. It is unknown at this time if the grant will be received. By June 2020 Stuhlsatz had raised enough money to purchase nine baskets by various business sponsors. Sponsors are as follows:
Barrett Lawn & Landscaping
Stop 2 Shop
S&S Contracting
Holthaus Construction
Alma Creamery
Baskets arrived recently and Stulhsatz and friends were able to install each basket and mark each tee pad with a stake in the ground. See the map for a guide to the course. The course will soon be uploaded to the Udisc App so that players can play and track their throws.
Eventually, once more funds are raised, each basket will have a concrete tee pad, sponsorship signage, central map of the course, and tee signage. If you are interested in sponsoring a basket contact Stuhlsatz at 785-844-5681.
Luke Stuhlsatz stands next to a newly installed basket at McKnight Field.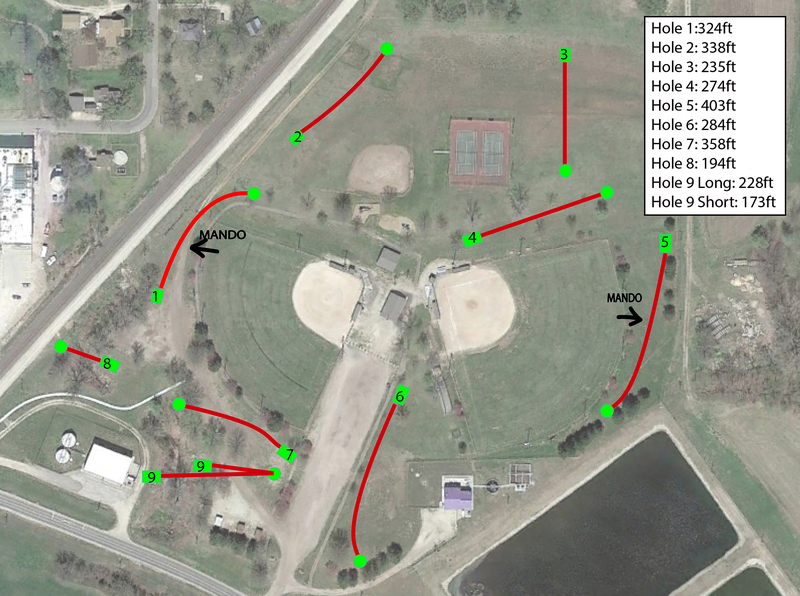 Map of the Course